You may find that some of the school fields are locked on the page for entering your educational history.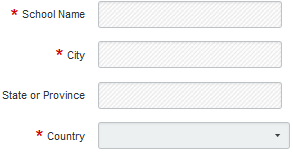 An example of disabled fields that may appear in your educational history page.
This is because the form requires you to use the school search button when entering in school information. Each institution designs their application a little differently, so the school search button may differ based on the application you're in. Below are a few examples of what they can look like:




Clicking the search button will take you to the school search page: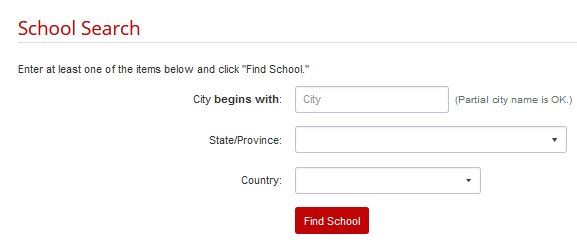 If you are having trouble locating your school using the school search feature, there are a few guidelines you can follow.
Usually setting a more general search will generate better results. For example, try selecting only the state in which your school is located and then scroll through the alphabetical results to find it in the list. If this doesn't work, try selecting only the country.
If you are still unable to locate your school within a broader search, we suggest running a search and then choosing "none of the above" at the bottom of the results list.
None of the Above highlighted here.
You will then be returned to the form, where you'll need to manually replace "NOT FOUND" with the name of your school, replace any ?? entries with the appropriate data, or enter NA in the state field if it is outside of the United States.

Note the fields are no longer disabled/locked.

So you may now manually type your school's details.
Most forms are designed so that if your school is located outside of the US or if you were home schooled, there is a link at the bottom of the school search page with specific instructions for entering your school:

Clicking the link (usually hyperlinked text) will take you back to the form and allow you to enter your school details, similar to how the "None of the Above" link works.