If you did not initially waive your right to view a recommendation letter and wish to do so after submitting the recommendation request, you can edit your waiver by logging into your user Activity page:
https://www.applyweb.com/cgi-bin/ustat?
Next to the recommender you intend to edit, click on the "Action" button on the right column of the page and click "Edit Waive Status".

You'll then be given the option to change your waive status from "No" to "Yes". Make your change, then click save. This change won't be reflected in your application, but the updated waive information will be sent to your recommender, and will appear in the recommendation request.
You may log into your Activity page and find the "Action" list box gives you no option to edit your waiver, like below: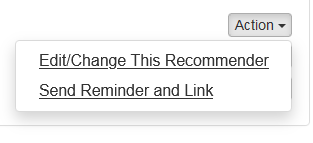 In this case, either you've already waived your right to view the recommendation or your recommender has already started the form. If the recommendation is complete, the "Action" button may be grayed out and inactive:

If you have already submitted your application and your recommender's status reads "Completed!" you will not be able to change your waiver at this time. Once the application and associated recommendation(s) have been transmitted to Admissions, it is no longer possible to change your waive selection in the online system.
However, if your application is unsubmitted or your recommender has not completed the recommendation form, you may still waive your right to view if your recommender is willing to restart their recommendation.
Please have them log back into their account and click the "Restart" button for your recommendation, which resets the form. If they see a "Revise" button instead, they'll need to click that first, followed by "Restart". Once their recommendation has been successfully reset to "Not started", you'll be able to waive your right to view from your Activity page. If your recommender needs assistance resetting they may click the Submit a Request button on the top right which takes them to the following following link: Submit a Request, https://applyweb.collegenet.support/hc/en-us/requests/new
For verification purposes, your recommender will need to be sure to contact us using the email associated with the recommendation.