If you need to edit a recommendation request you've submitted, you can do so from your user activity page. While you can only edit your recommender's name and email address from this page, once your recommender accesses the form they will be able to edit any remaining contact information. The school will then receive all the up to date recommender information within the completed recommendation form. You can log into your activity page to edit your recommender's email address or name at the link below:
https://www.applyweb.com/cgi-bin/ustat
Any online recommendation requests you successfully submitted will appear in the Online Letters of Recommendation section of your activity page:

Clicking Edit/Change This Recommender will open up the following: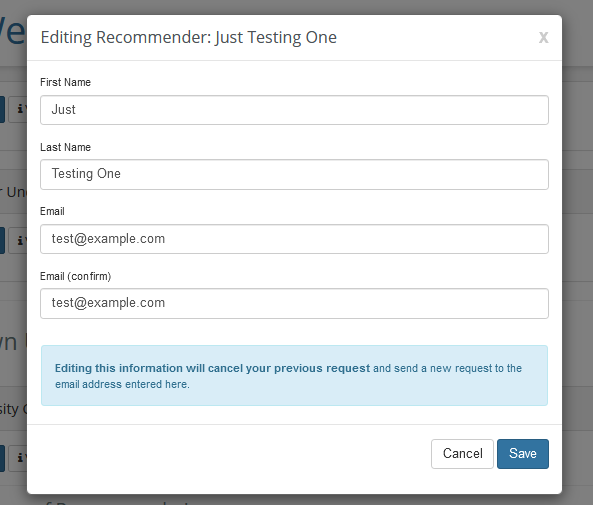 If you're editing the email address you entered, a new email will automatically be sent when you click Save. The recommender information you edit will only update on your activity page, and any changes made here will not be reflected in your application form. This is normal system behavior, and Admissions is aware recommenders can be changed this way. As long as the correct recommender details appear in your Activity page, you've successfully changed your recommender!
Do note that once your recommender has started (or submitted) their letter of recommendation, you won't have the option to edit your recommender any more. The Action button will either be grayed out and inactive (for a submitted recommendation) or only give you the option to send a reminder (for an in progress recommendation). In these cases, the recommendation form will need to be reset in order for you to edit your recommender. If your recommender is unable to reset their recommendation from within their Letters of Recommendation account, please have them click the Submit a Request button on the top right or send them the following link, Submit a Request (https://applyweb.collegenet.support/hc/en-us/requests/new), to request the necessary reset. They will need to do so using the email address associated with the recommendation form.